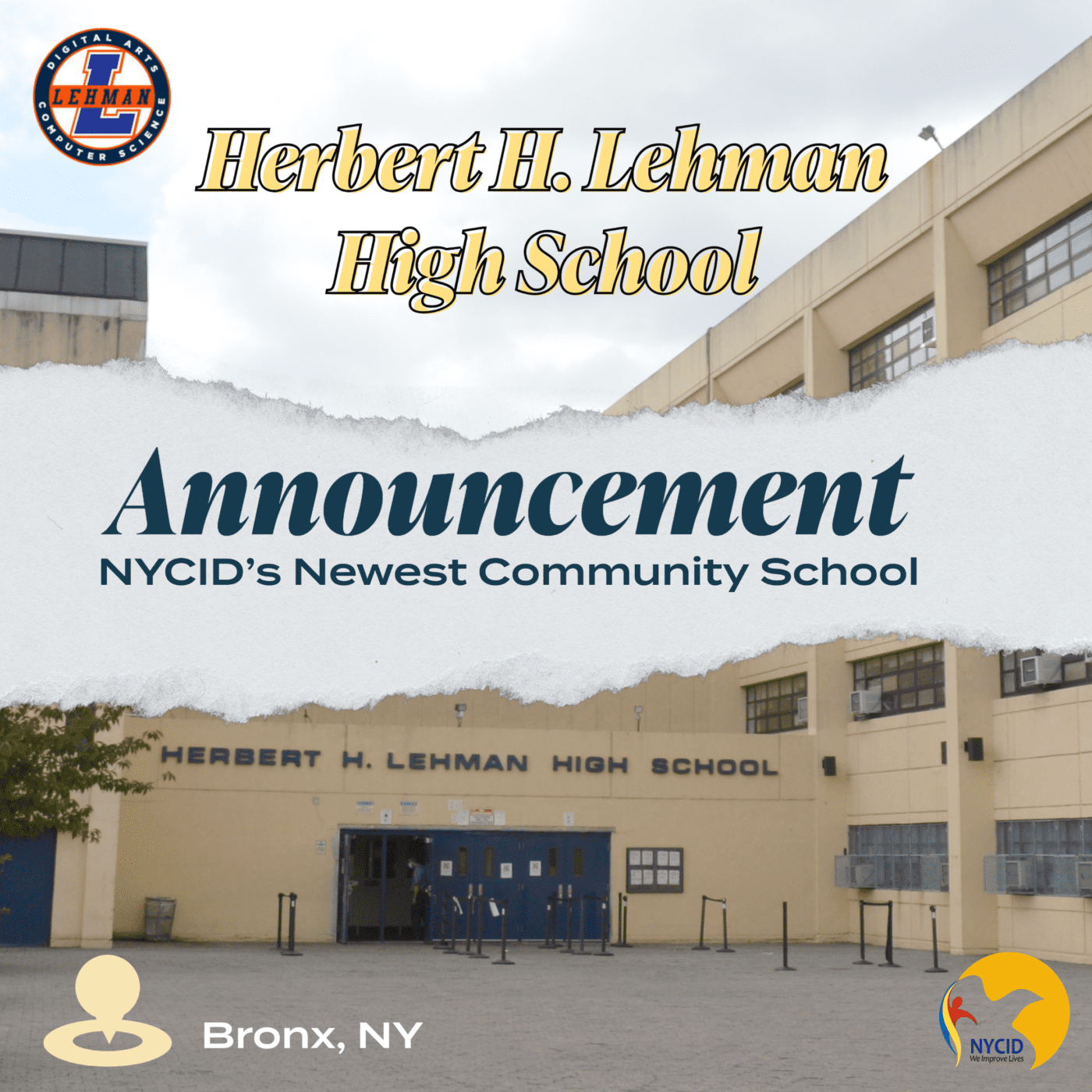 High school can be tough. Especially when you don't have someone there to help you get through it. Teachers can be busy with their class load, some parents are working hard just to put food on the table, and counselors can be overwhelmed. That's where NYCID comes in. Our community schools pick up the pieces that others can't. While NYCID is based out of Staten Island we are expanding to other places in our city.
That is why we are proud to announce we are opening our newest community school at Herbert H. Lehman High School in the Bronx. With 5 social workers and advocate counselors and mentors who are in place to help students tackle the upcoming school year. This is an exciting time for NYCID as this is our first venture into the Bronx and with a full Community School! The students aren't going to know what hit them this school year!
Stepping into NYCID's new office over the summer, everything was being set up and readied for the upcoming school year. Everyone was so anxious to get started and share their knowledge with the incoming students. Things were shaping up to get ready for the start of the first year of partnership with NYCID and Lehman. While prepping I got to know our new team. Representing the Bronx.
NYCID staff will be making their presence known starting with Jovanhy Santos, our new Community School Director. Santos is a licensed social worker who graduated from St. Thomas Aquinas College and ready to take on her new role! She is well versed in the world of improving lives and is more than ready to take on her new leadership role.
When asked why she wanted to get into social work Santo said it was because of her mom who is a community organizer in the Garifuna community. Santos slowly became more involved with helping people and has served many communities as a social worker learning about them and herself along the way. She enjoys working with teens the most. She is ready to serve the Lehman community.
Next is Lavern Butler who will be serving as a Community School Social Worker. Butler graduated from Fordham University and is originally from Queens, NY. She has been a social worker for several years now and is excited to start her new Journey in the Bronx. Butler feels like social workers are unsung heroes in our society and is happy that she is able to help people in her daily life. Another Licensed Social Worker is Alize Torres who graduated from Fordham University and went to high school on the same campus as Lehman.She is definitely getting back to her roots! A recent graduate with her masters in social work Torres is ready to get her feet wet! She spent time playing games and getting to know incoming students during the Summer Rising gaming week, getting ready to start the school year strong.
Lastly is Adrian Cabrera and Isiah Williams our newest mentors. Both football players who know about meeting youth where they are. Cabrera played in college where he graduated from Morrisville State College and also played at the professional level in the Arena Football League. He is excited to be a part of NYCID's first program in the Bronx. Williams played college football at Delaware State University and is a coach at Cardinal Hayes High School. Cabrera and Williams are ready to mold the youth of Lehman on and off the field.
Throughout the summer Our NYCID team at Lehman has been getting ready to tackle the school year by reaching out to families and meeting some students in the Summer Rising program. Summer Rising is a free camp offered to students with different themes each week that was put on through NYCID at Lehman in July and August. The themes included gaming, soccer, a talent show and more!
When asked about why Summer Rising is important, Cabrera said "Summer rising is important because now that it's summer time a lot of parents in single parent homes have to work. By putting a student in a summer rising program they don't have to worry about the student being at home alone, or being in the streets. At Summer Rising they'll be here doing activities and they actually are going to learn. It's especially important for incoming freshmen because they meet not only teachers but also classmates."
NYCID administration is also excited about the new partnership. When asked about what the upcoming school year will entail, Senior Director of Community Development Michael Candella said "This year at Lehman High School, we will continue to cultivate an exceptional learning environment so that our students can become 21st century citizens capable of reading, writing, and thinking critically across content areas. We are supremely confident that our new partnership with NYCID will help us to make an efficient transition from the confines of pandemic learning to the next phase of our school's transformative journey, where we will redouble our efforts to enhance our academic and social emotional programs, amplify students' and parents' voices and strengthen our community."
As the summer wraps up and the school year begins, the NYCID team at Lehman is excitedly awaiting the student body. They are preparing for all the activities and mentoring that will be provided. These activities include debate club, school newspaper, mentoring and more! NYCID also looks to provide adult education to people in the community so they can become more connected. Stay tuned for more updates on what we are doing at Herbert H. Lehman High School as we continue to improve Lives!